Mitsubishi Connect Overview
The Mitsubishi Connect technology syncs your smartphone with a new Mitsubishi vehicle. You can easily manage the signature Safeguard Services and Remote Services from the comfort of a mobile device.
Mitsubishi Connect Available Features
Smart Remote Start
This function allows you to remotely turn on or shut off the engine block
on a compatible Mitsubishi vehicle. When the powertrain comes on, the
climate control system is also activated automatically by this mobile
application.
Remote Door Unlock/Lock
This Connect feature remotely unlocks or locks the doors on a Mitsubishi
model. First, you must select the door icon on the main menu of the mobile
app. You can then select the lock or unlock icon on the app.
Car Finder/Remote Lights/Horn
The Car Finder function uses precise GPS data to identify the real-time
location of your synced Mitsubishi vehicle. You will see the location of
your car on a detailed map that appears on your smartphone. The Remote
Lights/Horn function also makes it easy to spot your car in a crowded
parking lot with limited visibility.
SOS Emergency Assistance
You may turn on the SOS Emergency Assistance feature by pressing a marked
electronic button in the overhead console above the driver's seat. This
technology initiates communication with the Emergency Response Centre,
which provides instructions on handling accidents, health problems and
other issues on the road. If necessary, the agents from the ERC will
request help from a local Public Safety Answering Point.
Roadside Assistance
With a press of a button in the overhead console of a Mitsubishi car, you
may request roadside assistance from a trusted provider. Using a
smartphone, you can also ask for roadside assistance through the Contact
Mitsubishi option. The mobile app supports direct communication through
the Call Customer Care interface.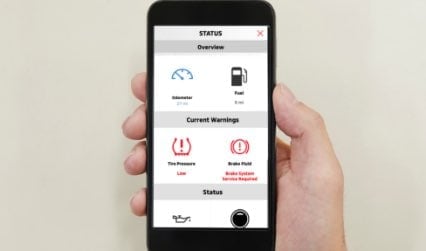 How to Get Started
If you drive a new Mitsubishi car and have a smartphone, you can easily
start to use the Mitsubishi Connect in Calgary, Alberta. After downloading
the mobile app from Google Play or the App Store, you could activate the
Safeguard Services and Remote Services.